Men's round neck sweater, long sleeves, light blue
The cotton sweaters of "YANA" Ltd. in structural knit with long sleeves and O-neck are extremely convenient and comfortable to wear, thanks to the best knitting world practices used. Highest production standards for 100% cotton. The most environmentally friendly finish thanks to the Swiss company THIES GmbH. The shirt has a stylish cut, in line with the latest fashion trends, fully fashion knitted, without cutting. The latest colors for the Spring-Summer season. Ideal for the city, for sea and mountains.
* Advantages of cotton clothes
There are several reasons to prefer cotton clothes over synthetic ones. The most important among them is the ability of cotton to quickly absorb moisture from the body and release it into the atmosphere. This allows the skin to "breathe". That is why cotton clothes are preferred to wear both in summer and in winter. Cotton clothes are soft, durable and comfortable. Also, cotton is an environmentally friendly, natural fiber, non-toxic and easy to maintain. Cotton clothes are hypoallergenic. Most dermatologists recommend wearing cotton clothes to avoid skin allergies. This type of fiber includes a wide range of products such as lingerie, towels, bedding, shirts, sweaters, dresses, jackets, cardigans, and many others. And last but not least - cotton clothes are 100% recyclable!
The images and design of the products on this site are copyrighted and the rights to them belong to "YANA" Ltd. Their use by third parties is prohibited without the explicit consent of the company.
*** The product is made in "YANA" Ltd. – factory in Pleven
**** The photos are real, but discrepancies in color shades are possible.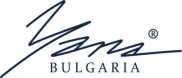 Много съм доволна! Изключително мек и пухкав халат за баня! Препоръчвам!